Unicorn hunters on dating apps are finally being called out as toxic.
Like most things in the kaleidoscopic world of sex, the terms 'unicorn' and 'unicorn hunter' mean different things to different people.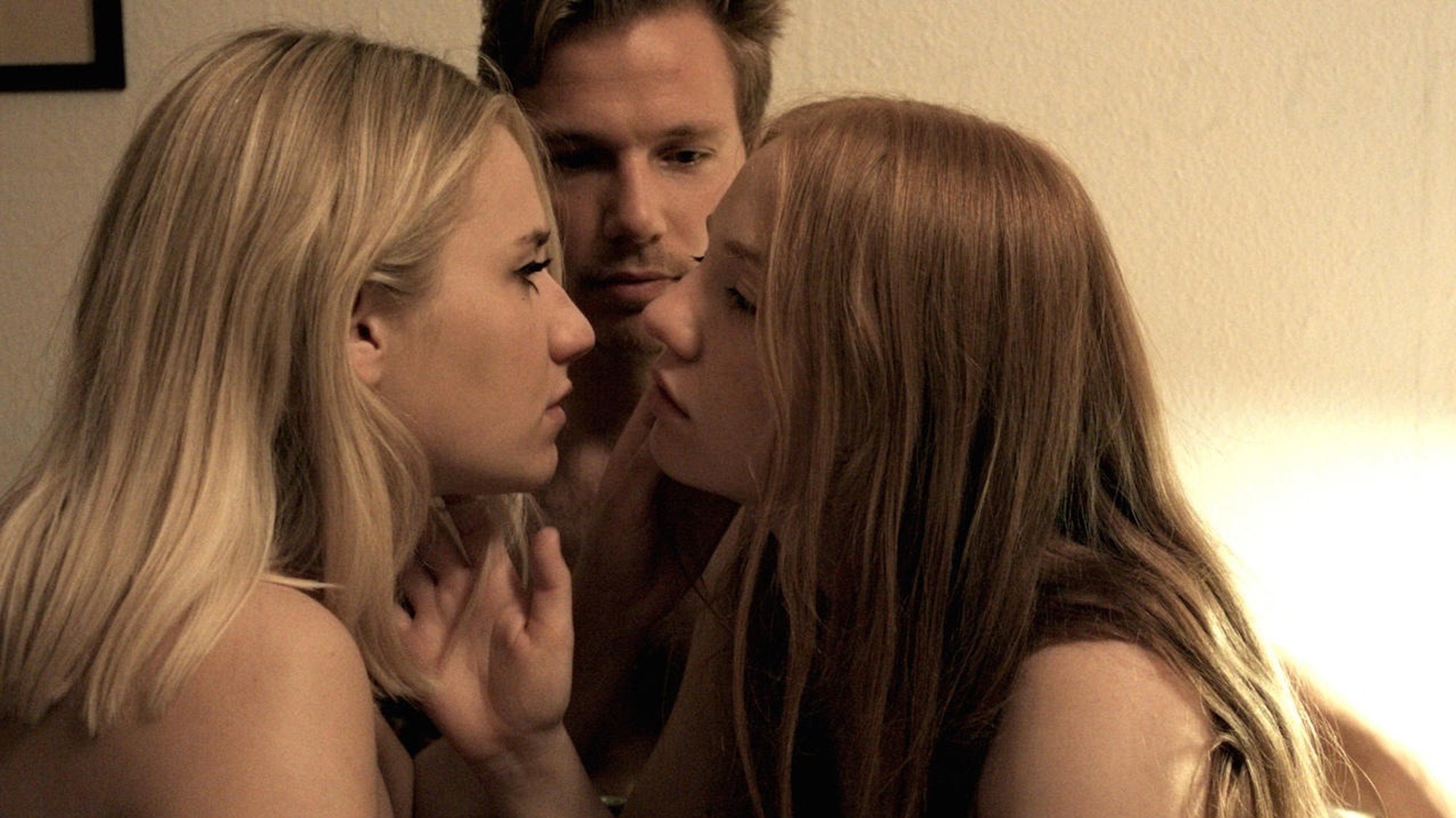 Over the past couple of years, open relationships and threesomes have begun to feel like the hottest dating trend. Perhaps this is a natural consequence of the boredom and isolation the pandemic bred, combined with the advent of alternative dating apps like Feeld and 3FUN. Or it might be because of greater visibility for non-traditional relationships in pop culture, with celebrities including adult-film director Bella Thorne and YouTuber Tana Mongeau speaking openly about their non-monogamous relationship setups. Whatever the reason, ethical non-monogamy has become a new buzzword for modern relationships. 
For his book Tell Me What You Want, Dr Justin Lehmiller spoke to 4,175 people and found that 97% of men and 87% of women (other genders and non-binary people were not mentioned) had fantasized about having a threesome. And according to a YouGov poll of over 23,000 Americans, almost a quarter said they would be interested in having an open relationship. 
For couples looking to invite a third person into the bedroom, apps that cater specifically towards them seem like a good place to start. It's on these apps that the seemingly cutesy term "unicorn hunter" has found prevalence. A "unicorn" is a person who is interested in having sex with, or possibly even dating, a couple. And so, "unicorn hunters", as you might guess, are people on the prowl for this.
Like most things in the kaleidoscopic world of human sexuality, the terms "unicorn" and "unicorn hunter" mean different things to different people. The terms will be taken differently in the swingers community, for example, which is often considered its own subset of ethical non-monogamy. Online, there are people who self-identify as unicorns, and many members of the polyamorous community would argue that not all unicorn hunters are inherently unethical. However, it seems that there are far more couples getting it wrong than there are those getting it right. And now, influencers and relationship experts on Instagram and TikTok are speaking out to educate people against this potentially toxic practice. 
"Unicorn hunting is ethically fucked," TikToker Violet Luna Eclipse says in a video liked by over 11,000 users. "You don't unicorn hunt; it's not okay."  Another video by polyamorous content creator Anna — who has over 360,000 followers — breaks down why this is so frowned upon: "A lot of the time, unicorn hunters are using that person to fix their relationship, or to experiment with sexuality. Basically, they're using them." Stand-up comedian Kate Willett has even weighed into the discussion, sharing a tweet for Pride last year that was a pretty clear dig at heterosexual couples who unicorn hunt. "Happy Pride. I hope one day the world loves bisexual women as much as heterosexual couples with a failing marriage do."
Leanne Yau is the founder of the Poly Philia Blog, an educational platform for ethical non-monogamy and polyamory, which has over 200,000 followers across Instagram and TikTok. Leanne has also recently started calling out toxic unicorn hunting on her channels. "The most annoying thing about unicorn hunters is that I do actually want to have a lovely threesome experience with a hot and respectful couple, but I know I'd have to sift through hundreds of dehumanising texts and be objectified/fetishised a ton to find just one good one." Dozens of comments on the post mirrored her sentiment. But in a twist that would be funny if it wasn't so infuriating, Leanne later had to edit the post when couples saw it as an invitation and started hitting up her DMs for sex.
"A lot of couples think they can pick and choose a unicorn like they're flipping through a shopping catalogue," Leanne explained. "Unicorns often risk not having their needs met and boundaries respected, essentially being treated like a sex toy."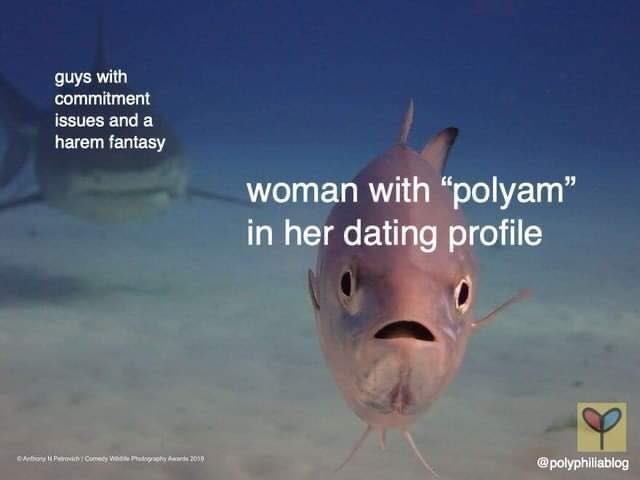 @polyphiliablog on Instagram
And it's bisexual women in particular who are seeing the darkest side of unicorn hunting. "On dating apps, couples will immediately pounce on bisexual women, find them on social media and ignore any boundaries they state," Melissa Vitale tells me, the founder of MAVPR, New York City's biggest (and most infamous) sex and cannabis PR agency. Melissa is polyamorous and has found herself in negative dynamics with couples in the past. But after one too many bad experiences online, Melissa stopped meeting couples this way, preferring to meet people IRL through the kink and sex-positivity scene.
Leanne explains that it's very common for cis, straight couples looking for unicorns to seek out bisexual women, something that is fraught with issues. By looking for another woman, couples often feel that they're dipping their toe into opening up their relationship in a more comfortable, socially acceptable way. "Couples tend to think that this is the 'safest' way to open up their relationship, and it's just not."
Limiting a search to women-only is sometimes known as the "one penis policy" — when the man in a couple dynamic will only allow his female partner to have sex with other women, never other men. Scratch the surface of this just a little bit, and it's easy to see how this kind of thinking and rule-making taps into misogynistic ideas about female sexuality, as well as hugely downplaying the validity of female desire.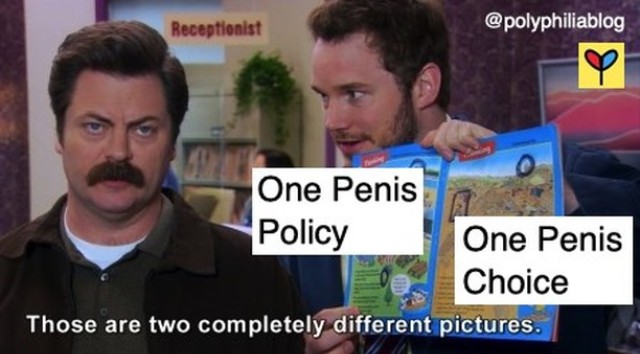 @polyphiliablog on Instagram
Couples will also often think that a bisexual woman will, almost by definition, be interested in having sex with both of them — a very dodgy assumption grounded in biphobia. "I've had couples assume just because I'm attracted to women and men, I want to sleep with them," Melissa says. "I avoid identifying as bisexual in part because of unicorn hunters," she further explains, saying she prefers the term queer, which requires some explanation from her and so works as a filter against couples who are narrow-minded or unwilling to put in the time to get to know her. "Gender is not a factor to my very high standards of attraction. With that, folks tend to realise that my sexuality is not an indicator of whether I want to sleep with them but that I actually need to be attracted to.
While more openness in relationships can definitely be a good thing — and while more representations of openness and polyamory in the media are widening our understanding of relationships and sexuality generally, more education is needed for couples who are new to this. Leanne and Melissa both agree that couples need to do more homework before they start sliding into the DMs of potential thirds. "Speak to people who have been in a dynamic with a couple, find out about their experience, genuinely try to put yourself in the shoes of that person," Leanne advises.
Melissa sums up why it should fall on the couple to educate themselves first: "We should put the work on couples (two people!) to respect boundaries without having to be told. Not expect one person to lecture these couples on how to treat them as human beings."
Courtesy of: I-d.vice.com